Welcome to Hill Country Propane, Inc. Style. Service. Solutions.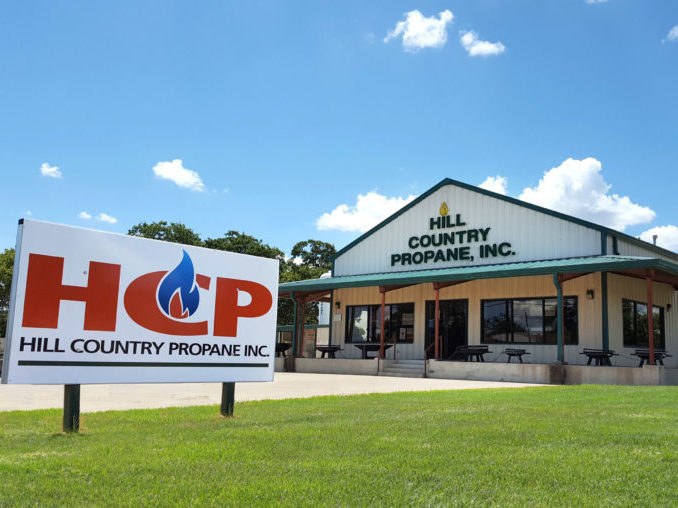 Hill Country Propane, Inc. in Fredericksburg, Texas is your full service propane provider serving Gillespie and the surrounding Hill Country counties. Propane services are our mainstay and customers have put their trust in us for more than 36 years! We are a locally owned company, committed to giving our customers safe, honest and dependable propane service
Over the years Hill Country Propane, Inc. has grown to be the place to shop for all of the propane operated décor and accessories that make your house a home! We offer a broad range of indoor and outdoor fireplaces, fire pits, fire bowls and fire urns, fire and water features and gas logs. We specialize in helping you select the perfect stainless and ceramic grills to make your patio area the haven you have in mind. And we offer all the amazing accessories for fireplaces and grills you need to complete your décor and grilling experience! Our products and services include:
Design, selection and planning assistance
Indoor & Outdoor Fireplaces
Built-In & Portable Gas Grills
Life-Like Gas Log Sets
RV & Cylinder Fill-Up
Residential & Commercial Refills
System Leak Tests
System Installation & Service
Service after the Sale
Hill Country Propane, Inc. has it all from the basic to the exotic! And we will be with you every step of the way from design through installation and service after the sale. Hill Country Propane, Inc. is the choice for Style. Service. Solutions.
Hill Country Propane Inc. is proud to announce….
The Primo Oval G420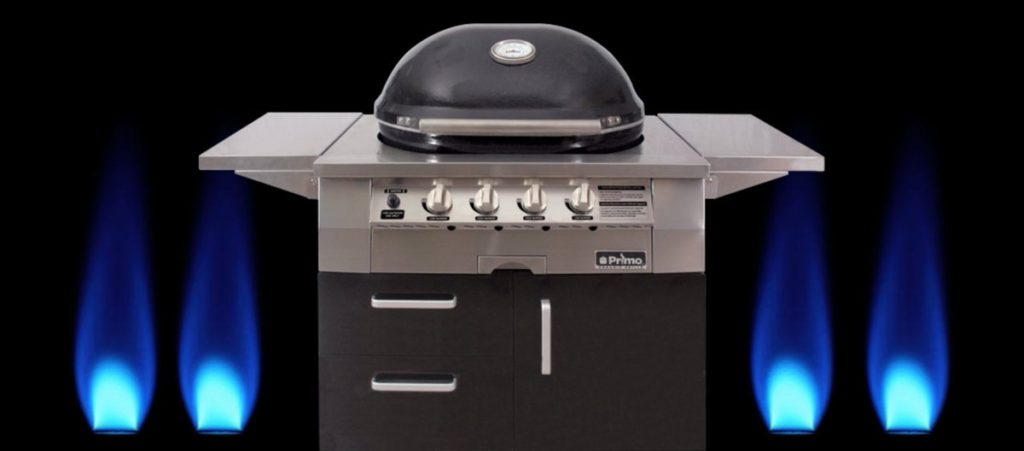 The Primo Oval G 420 transcends standard gas grills by integrating a premium grade ceramic shell. Unlike metal gas grills that radiate high amounts of heat and pull the moisture out of food, the ceramic shell of the Primo Oval G 420 acts as an insulator to retain more heat and preserve the natural moisture and oils of the food. With two low burners and two high burners you have the flexibility to smoke at 220°F or sear at 750°F. In fact, you can reach 650°F in under three minutes. The assembled grill features premium grade ceramics, 304 stainless steel cooking grates, burners, flavor grids, exterior and components. The cart features brushed aluminum handles with a powder coated steel exterior and locking casters. Every Primo is built for years of use and enjoyment.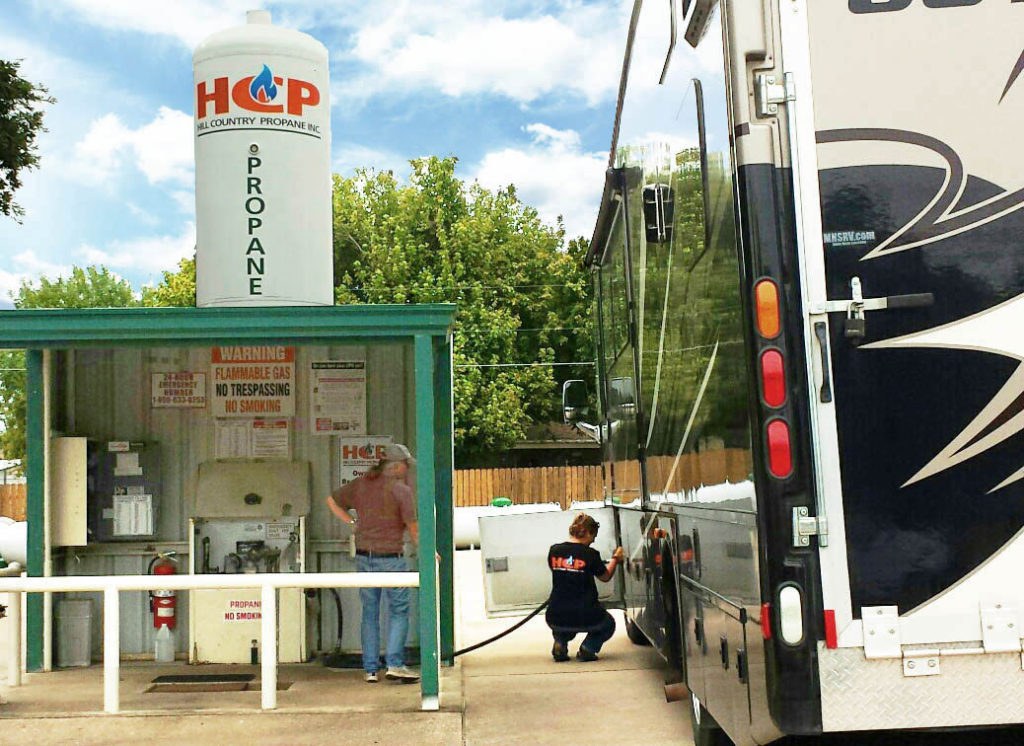 RV Tank Refills
If you're a "Snow Bird" or just like to camp awhile around Fredericksburg, stop on by Hill Country Propane's onsite filling station. We have an extra wide entrance, pass through and exit so you can easily pull out to Highway 16 South.
See our ads in leaflets from these area RV Parks:
Fredericksburg RV Park
Hill Country RV Park
Oakwood RV Resort
Lady Bird Johnson Municipal Park
Quiet Creek RV Resort
Peach Country RV Park -Stonewall
Don't Forget Your
Savings Card
and get $2 off your first refill.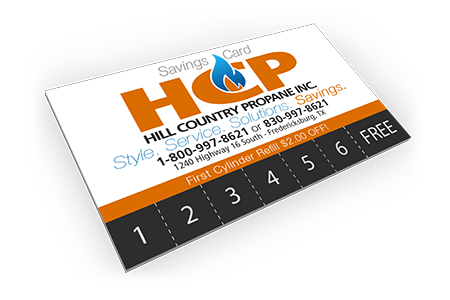 Get your
7th Tank Free
(of equal or smaller size.)
(see rules on back of Savings Card)
Call Us Today!
1-800-997-8621 or1-830-997-8621
The backyard barbecue is an essential part of the American landscape. And while you may take great care in selecting and preparing the foods you serve, the success of your meal often comes down to the quality of your gas grill. Whether you are a first-time buyer, or a seasoned grill master looking to replace your current grill, there's a gas grill to fit every cooking style and budget. We have portable models for camping and larger grills designed to feed an army of family and friends. Visit our showroom to see the full range of outdoor grills from small portable units to multi-functional stainless islands complete with sink and refrigerator.
Let us help you select the grill that meets your needs. And, don't forget to get spices, tongs, forks, brushes, a grill cleaning robot, and of course a full bottle of propane. We have everything you need, all ready to go!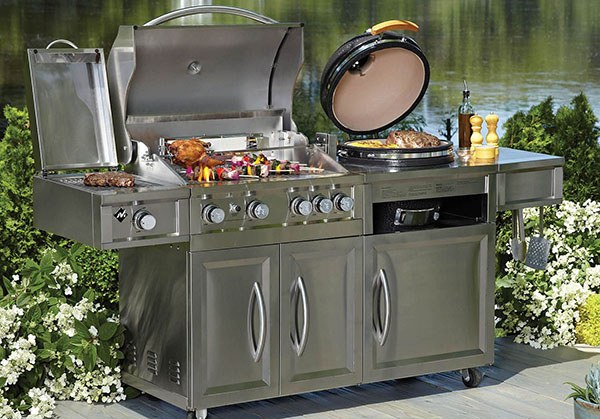 New to Propane?
"But how does it stack up to electricity?"
Propane water heaters cost 30% less to operate than electric ones. Tankless water heaters cost 60% less to operate than electric ones. Not only that, propane water heaters can deliver twice as much hot water as electric – in the same amount of time.

A propane furnace consistently supplies air at a comfortable 120°F.  Electric heat pumps dispense air at 95°F, which is less than body temperature (98.6°F), so the air feels cool, not warm.

According to Appliance magazine, propane gas furnaces last an average of 20 years, while electric heat pumps last an average of 14 years. It also costs less to repair a propane gas furnace than an electric heat pump.
Call Us Today!
1-800-997-8621 or1-830-997-8621
Grills, Fireplaces & a Whole Lot More!
Admin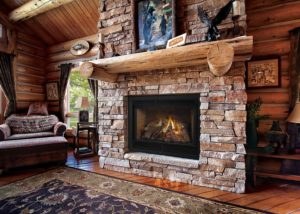 A fireplace is a fireplace is a fireplace. Unless, of course, that fireplace happens to be a Mendota gas [...]